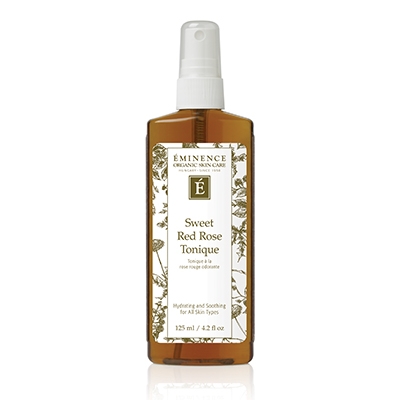 Sweet Red Rose Tonique
Sweet red rose petals will bring a look of balance back to your dehydrated skin. Cruelty-free and formulated without parabens, sodium lauryl sulfates, animal by-products, synthetic dyes, petrochemicals, phthalates, GMOs and triclosan.
Retail Size: 4.2 oz / 125 ml
Hydrating and mattifying toner
Categories: All skin types, Hydrating Mists & Toniques, normal/dehydrated skin
Tags: award winning, Best Sellers, calming, Clear Skin, cruelty free, dehydrated skin, Eminence, eminence ireland, eminence organic skincare, eminence organics, green beauty, Hydrating Mists and Toners, Hydration, ireland, make-up setting spray, Men, paraben free, soothing, sweet red rose tonique, toniques, vegan
*Your skin appears perfectly clear, fresh and relaxed. *Reduction in the appearance of skin discomfort *Pores are purified, refreshed and appear tightened *Eminence is constantly innovating our product formulations to deliver the best results.
Key Ingredients Sweet Red Rose Extract: nourishes the epidermis Lemon: tones and refreshes the skin's appearance Hibiscus Flower: softens and soothes dry skin We Believe in: We say NO to: Organic Parabens Natural Phthalates Biodynamic® Sodium Lauryl Sulfate Sustainable Propylene Glycol Cruelty Free Animal Testing Our natural, organic and Biodynamic® ingredients may have slight variations from harvest to harvest.
Spray directly on to your face and neck, avoiding the eye area. Leave on. May also be applied with cotton pads.