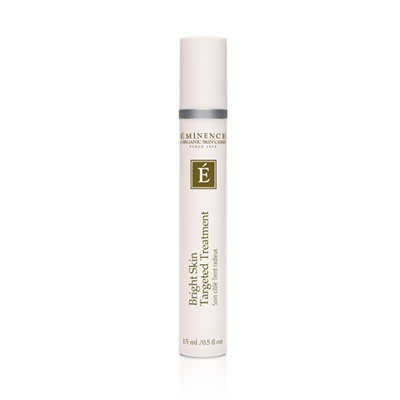 Bright Skin Targeted Treatment
Licorice root extract, punarnava and turmeric combine to reduce the look of dark spots. Infused with Gigawhite™, a proprietary blend of skin brightening alpine plants, this intensive treatment is applied directly to trouble areas to reduce the look of dark spots, reveal bright skin and a more even complexion.
Retail Size: 0.5 oz / 15 ml
Out of stock
1- Visible signs of age spots appear reduced
2- Complexion is left looking brighter and more even

1- Licorice Root Extract: Reduces the look of age spots
2- Punarnava Root Extract: Evens skin tone, reduces the look of dark spots
3- Gigawhite™: Made up of seven organically grown Swiss alpine plants; brightens skin to reduce the look of dark spots
4- Turmeric Root: Brightens skin


Use once or twice daily as required. Apply a small amount directly to affected areas and leave on. Can also be used on tops of hands and décolleté.

Related Products