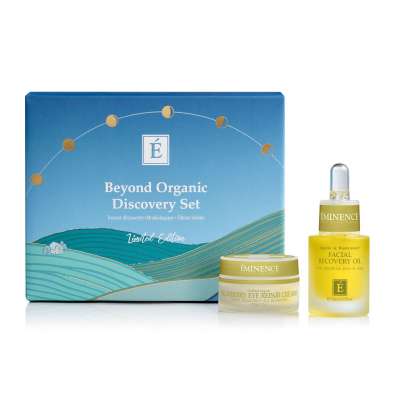 Beyond Organic Discovery Set
 LIMITED EDITION 
 VEGAN 
 SOY FREE 
NUT FREE
Prepare yourself for radiant skin with this luxurious set featuring tw Eminence Organics favorites. Formulated with natural herbs, the Facial Recovery Oil provides deep hydration, revealing a healthy glow. The Bearberry Eye Repair Cream harnesses active ingredients to hydrate the delicate eye area, dramatically reducing the appearance of fine lines and wrinkles. This award-winning duo is a part of our Beyond Organic Collection, handcrafted in Hungary and made with Demeter certified Biodynamic® ingredients.
Facial Recovery Oil:
Winner of Organic Category, Best Product Awards, LNE & Spa's, 2021
Winner of Top Face Oil, Organic Spa Media Beauty Awards, 2020
Winner of Editor's Choice – Beauty, Beauty Shortlist Awards, 2019
Bearberry Eye Cream:
Winner of Organic Category, Best Product Awards, LNE & Spa's, 2021
Winner of Best Eye Cream, Spa & Wellness Mexico, 2016
Winner of Dayspa Magazine's Editors' Choice, 2009
Out of stock
Facial Recovery Oil: Skin is deeply nourished and hydrated Skin is smoother and softer Epidermis is regenerated, healing is augmented Complexion is evened Bearberry Eye Repair Cream Eye area moisture levels are balanced Complexion is left more youthful and radiant Wrinkle depth is minimized Eminence Organics is constantly innovating our product formulations to deliver the best results.
Key Ingredients: Facial Recovery Oil Clary Sage Oil: balances oil on the skin Olive Oil: improves the look of the skin and hydrates deeply Sage Leaf Extract: antioxidant which rejuvenates and tones the look of skin Ylang Ylang: cleanses and balances Bearberry Eye Repair Cream Bearberry Extract: rich in antioxidants that brightens the look of the skin Red Clover Extract: contains antioxidants that improve the appearance of the skin Parsley Seed Extract: improves the appearance of skin radiance Eyebright: firms and brightens the appearance of skin Hops Extract: tones and helps the skin look calm We Believe in: We say NO to: Organic Parabens Natural Phthalates Biodynamic® Sodium Lauryl Sulfate Sustainable Propylene Glycol Cruelty Free Animal Testing Our natural, organic and Biodynamic® ingredients may have slight variations from harvest to harvest.
ndulge in two of our products from the exclusive Beyond Organic Collection. Use both products twice per day, morning and evening. Facial Recovery Oil Directions: Apply 2-3 drops to face and neck with circular motions. Bearberry Eye Repair Cream Directions: Gently apply a thin layer to the eye contour area until absorbed.