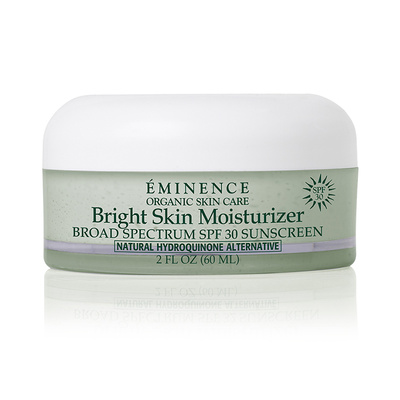 Bright Skin Moisturizer SPF 30
Protect your skin while brightening with stone crop, bearberry, GigaWhite™ and a Natural Hydroquinone Alternative. Lighten the appearance of dark spots while protecting against future damage with the built-in broad spectrum SPF.
Retail Size: 2 oz%
Brightening SPF 30 Day cream
Add to Wishlist
1- Dry skin is soothed and replenished 2- Skin is protected from drying environmental stressors 3- Dry skin feels cooled, relieved and refreshed
1- Bearberry Extract: antioxidant; lightens the appearance of dark spots 2- GigaWhite™: antioxidant; a powerful blend to restore luminosity to the skin 3- Licorice Root: antioxidant: soothing 4- Natural Hydroquinone Alternative: a natural brightening agent made with African potato and Tara Tree for a smooth, radiant complexion 5-Stone Crop: hydrating and nourishing for uneven skin tones 6- BioComplex™: a booster of antioxidants, vitamins, 7- Coenzyme Q10, and Alpha Lipoic Acid to reduce the appearance of wrinkles and improve the appearance of skin
Apply a layer of moisturizer over the entire face and neck area. Leave on. For a lighter application, emulsify a small amount of moisturizer in your hand with a few drops of water. For extra hydration, apply a thicker layer on dry areas.