YOUTH SHIELD
Youth Shield Collection 
Eminence Organic Skin Care, the leader in organic skin care, is excited to announce the launch of its revolutionary Youth Shield Collection. This new collection is formulated to protect against the early signs of ageing using an exclusive Youth Shield Antioxidant Complex that balances and protects the skin while fighting free radicals – the leading cause of fine lines and wrinkles. Naturally derived from red currant, elderflower and magnolia bark, the Youth Shield Antioxidant Complex is proven to give dramatic results in just 28 days.
What is it?
A 5-piece prevention collection for maintaining your skin's youthful appearance.
Who is it for?
You are in your 20's to late 30's, are concerned about aging and have normal combination skin.
Why?
The 20's—in the mid 20's our skin's ability to retain water starts to decrease. We have some sun damage and still a few breakouts.
The 30's—In addition to the processes described above, our skin starts to produce less collagen.
How does it help?
Youth Shield is formulated to balance and protect the skin while it fights free radicals.
This antioxidant-rich collection helps minimise inflammation, repair sun damage, and moisturise while keeping breakouts at bay.
Results include:
36% increase in skin hydration
11% enhancement in skin vitality
10% improvement in skin elasticity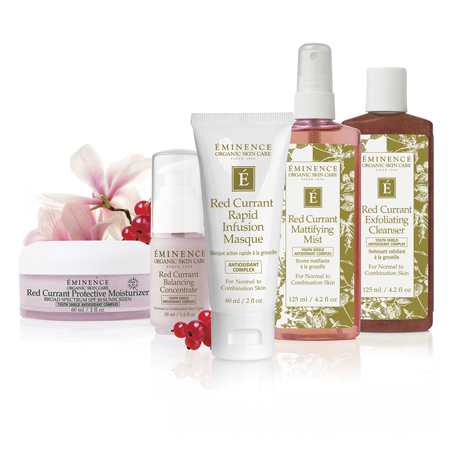 Unlike typical skin care products that are designed to treat aging skin, the innovative Youth Shield Collection offers a proactive approach to skin care and focuses on the preventative steps before the early signs of aging take hold.
Youth Shield Starter Set
Red Currant Rapid Infusion Masque
Red Currant Protective Moisturizer SPF 30
Red Currant Mattifying Mist
Red Currant Exfoliating Cleanser
Red Currant Balancing Concentrate
Youth Shield Products