Arctic Berry Peel – Peptide Illuminating System
What if you could target ageing, hyperpigmentation, as well as sensitive, rosacea and acne prone skin in just 3 steps?
Now you can do all that and awaken your skin's inner beauty with the new Arctic Berry Peel & Peptide Illuminating System from Éminence Organic Skin Care. This innovative 3-step peel and peptide system will give your skin a completely fresh start. Exfoliate. Activate. Illuminate.
Keep your skin radiant in-between spa treatments with this innovative system which awakens the skin's natural inner beauty using an exquisite blend of arctic berries, lingonberry seed oil and hibiscus seed extract.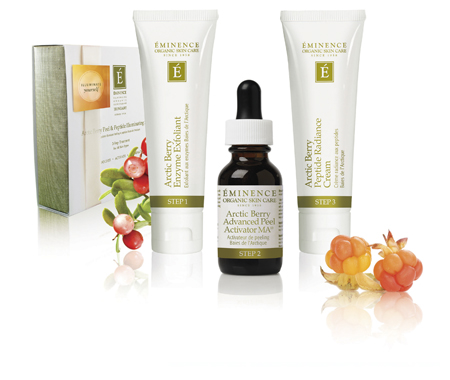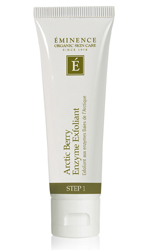 How the system works:
STEP 1—EXFOLIATE  +  STEP 2—ACTIVATE  +  STEP 3—ILLUMINATE
Step 1 – Arctic Berry Enzyme Exfoliant
Experience the ultimate renewal from the powerful combination of enzymatic and manual exfoliation. For best results, use the Eucalyptus Cleansing Concentrate (not included) to prepare the skin for the treatment.
30ml/1fl oz
Step 2 – Arctic Berry Advanced Peel Activator MA10
Unveil a brand new you with this self-neatralizing MA10 (multi-acid 10%) peel that gently removes layers of the skin naturally to initiate clearer, smoother and more luminous skin.
30ml/1fl oz.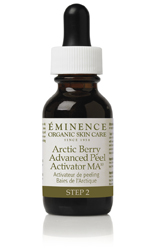 Step 3 – Arctic Berry Peptide Radiance Cream
Finish off your radiant look and achieve maximum luminosity with this all-powerful, soothing moisturiser the features our exclusive Peptide Illuminating Complex.
30ml/1fl oz.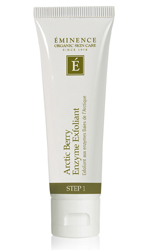 Peels
Natural peels are boasting amazing results and a completely transformed complexion. The new Arctic Berry Illuminating Collection includes a 3-step treatment with a results-oriented natural peel that will lead you to absolute radiance.
Those with sensitive skin may be more inclined to shy away from peeling treatments. The good news is that unlike most peels, the new Arctic Berry Peel & Peptide Illuminating System can also be used on sensitive skin types! We have sourced innovative, natural active ingredients to help you achieve the same results as a synthetic chemical peel while eliminating any fear associated with this type of treatment. The synergistic blend of naturally-derived acids in the activator (step 2) are beneficial for reducing hyper-pigmentation and inflammation, as well as fine lines and wrinkles. All acids are sourced from natural elements such as the hibiscus flower, grains, bitter almond and sugar, offering you the natural approach to a peel.
Peptides
Often referred to as the "antiageing" powerhouse, peptides are an exciting and revolutionary skin care ingredient! By penetrating the top layer of the skin, peptides are able to send signals to our cells to let them know how to function in the most optimal way. Peptides "teach" our skin to perform a certain way, leaving us with many possibilities to change the appearance of the skin. The Arctic Berry Peptide Radiance Cream targets the collagen protein, which gives skin strength, elasticity and suppleness. Collagen loss is one of the major causes of ageing skin.
Our Arctic Berry Peptide Radiance Cream uses a botanicallysourced oligopeptide from hibiscus seed which relaxes the facial muscles, causing a botox-like effect and is clinically proven to:
• Improve the appearance of fine lines by 40%
• Increase collagen production by 30%
• Decrease wrinkle depth by 26%
This peptide directly infiltrates the skin to counter the loss of collagen, repair skin fiber structure, restore skin elasticity and promote cell metabolism—as a result the skin will be softer and wrinkles will be less visible. Our exclusive Peptide Illuminating Complex unleashes the true power of peptides, specially formulated with supporting ingredients for maximum results and dramatically youngerlooking skin. This proprietary blend of botanically-derived peptides, along with yellow plum extract and gardenia stem cells increases the effect of the collagen-stimulating peptide for an all-powerful peptide infusion.
Love the Arctic Berry Peptide Radiance Cream?
In addition to it being part of the Arctic Berry Peel – Peptide Illuminating System, the Arctic Berry Peptide Radiance  is also sold separately from the kit in a 60ml retail size
Arctic Berry Products