We're committed to finding organic, Earth-friendly solutions in every aspect of our business. Here are some of the ways we're doing that.

Farming
Explore the award-winning Eminence Certified Organic Farm and see where certified organic ingredients grow.
Ingredient farms in Hungary are powered by solar and wind energy
Natural compost during planting
Planting and harvesting is conducted manually to decrease CO2 emissions
Use of only natural plant preservation techniques

Ingredients
Our partners and farms produce natural, organic and Biodynamic® fruits and vegetables.

Products
Products are handmade without severe heating or hydrogenating processes that can affect the nutritional content and potency of natural ingredients
Vitamins are captured in their all-natural fresh base, and seeds, pulps and peels impart regenerative and healing powers that only nature can produce
Free of parabens, animal by-products, propylene glycol, sodium lauryl sulfates, harmful colorants and fragrances, mineral oils, petroleum, and other harsh cosmetic chemicals

PACKING
All boxes are made from post-consumer recycled material and can be recycled
Containers are made out of recycled, non-toxic plastic and are recyclable
All packing boxes are reused or recycled
Packing chips are made of 100% biodegradable corn that dissolves harmlessly in water
Eco-friendly software system means less printed invoices

Green Offices
Electricity usage is offset with wind power credits and solar panels on the roof
Letterhead printed on post-consumer recycled paper using vegetable-based inks
All paper used in the office is recycled
Office space is designed as an eco-alternative building

Transportation and Distribution
Courier company uses hybrid vehicles
Large shipments are sent on trucks running biodiesel made from recycled household vegetable oil
Products are shipped by air with Lufthansa – the leading airline in the fight against climate change
97% of employees walk, bike or take public transit to work

Green Spa Program
Rewarding spas who are actively engaged in green practices
Recognized as a green spa on our Spa Locator for customers seeking eco-friendly spas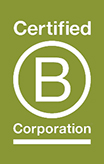 B CORPORATION®
Eminence Organic Skin Care is proud to be a Certified B Corporation®. B Corps are a new type of company that uses the power of business to solve social and environmental problems.
B Corp™ certification is to business what Fair Trade certification is to coffee or LEED certification for a building. They meet the highest standards of overall social and environmental performance, transparency and accountability.