Every time you buy Eminence Organic Skin Care, we plant a tree for every product sold.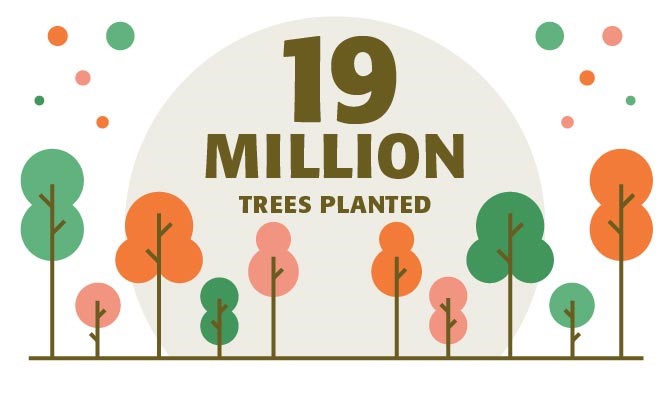 Through our ongoing partnership with award-winning global tree planting organization Trees for the Future, we are planting trees in developing countries throughout the world including Burundi, Uganda, Ghana and Tanzania. In Africa, agroforestry provides families with the education and tools to create their own tree nurseries. The profits allow them to support their basic needs, while also benefitting the environment and fighting deforestation.
In Kokerie, Tanzania, the agroforestry education allowed one family to start their own tree nursery, generating enough profit to maintain their daily needs and keep their two girls, Rosemary and Heavenlight, in school.
Because we plant a tree every time you purchase one of our retail products, Eminence has planted 7 million trees so far!
As the first and only skin care brand ever to plant over 5 million trees and to celebrate this amazing achievement - as well as bring awareness to why planting trees is such an important cause - both our company and Trees For The Future recently released inspiring videos. Watch below:
THE POWER OF A SINGLE TREE
Produces approximately 260 pounds of oxygen per year
Absorbs as much carbon in a year as a car produces driving 26,000 miles
Helps lower air temperature and helps combat climate change
Stabilizes the soil and prevents wind and soil erosion through its roots
Contributes to the fertility of land through nitrogen fixation and increasing water penetration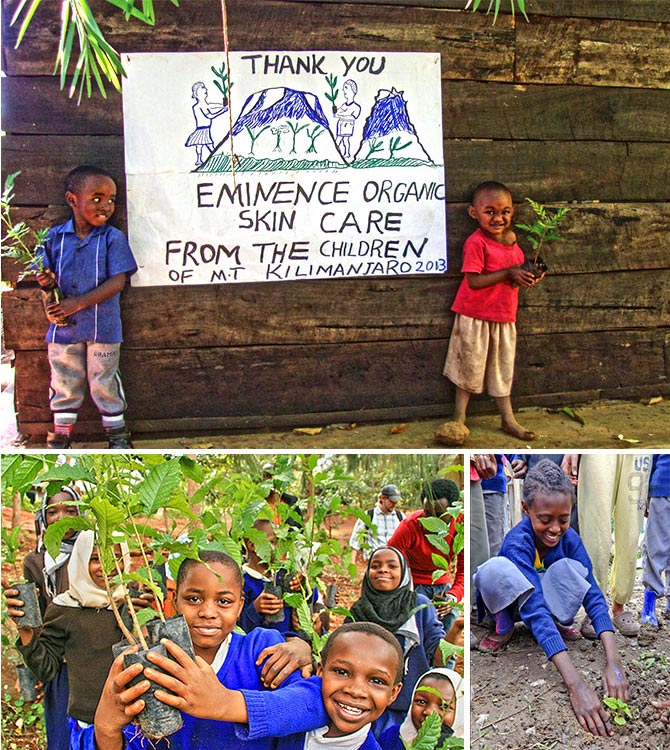 Thank you poster from the children of Mt. Kilimanjaro (top), children in Cameroon with
trees (bottom-left), planting trees in Ethiopia (bottom-right)
THE FOREST GARDEN PROJECT
As part of our Forests for the Future Initiative, the Forest Garden Project is Eminence's commitment to a four-year implementation plan of the Forest Garden System in Senegal, Africa. This project enables our tree planting partner's field teams to combine training and monitoring activities that empower farmers to restore the land and provide food and a sustainable future for the region's inhabitants.
"This contribution – to help the residents of Senegal develop and maintain their own sustainable solution – will hopefully perpetuate for generations to come."
– Boldijarre Koronczay, President of Eminence Organic Skin Care
By applying sustainable land management best practices, the project expects to help by:
Training and supporting at least 200 farming families – protecting approximately 2,000 people from extreme poverty
Planting over 1.6 million trees on an estimated 200 hectares of land
Providing access to vitamin-rich foods through an ongoing reliable food source
Producing and planting at least 400,000 fruit, nut and forestry trees each year for household consumption and sale
Generating an additional estimated annual income of $5,800 per farmer by the fourth year and significantly higher growth in the 5-10 years that follow
"This contribution – to help the residents of Senegal develop and maintain their own sustainable solution – will hopefully perpetuate for generations to come."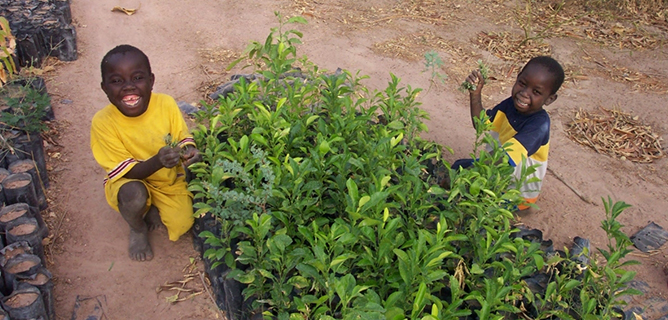 Children in Senegal with trees to be planted