MICRO GREENS
MICROGREENS & ANTI-POLLUTION SKIN CARE
Detox | Renew | Infuse
Fortify skin with Detoxifying Microgreens Complex
What are Microgreens
Microgreens are tiny vegetable greens. Microgreens are the middle stage of plant growth, bigger than a "sprout" but smaller than a "baby green."
Well known in the culinary world for their high potency of antioxidants, microgreens are a superfood. Harvested at just the right time, the plant has had enough time to mature and develop potent nutrients without entering into the juvenile plant growth stage, which has a stronger, denser structure.
What are the topical benefits of microgreens?
The Detoxophane derived from Swiss cress sprouts has dual topical benefits. First, it activates enzymes in the skin that naturally detox the complexion by shedding "old" skin cells. Simultaneously, Detoxophane enhances the resistance of skin cells against environmental pollutants.
How do microgreens help offset skin damage caused from pollution?
If you've ever experienced that pore-clogged, greasy-skin feeling after a day in the city, you know the effects that pollution can have on your skin. Smoke, soot, acid and other pollutants penetrate pores, causing inflammation, premature ageing, dryness, congestion and  hyperpigmentation.
The natural antioxidant power of microgreens helps strengthen the healthy cells against free radicals, reinforcing the skin's own protective barrier against environmental stressors. Microgreens also stimulate the body's production of enzymes that help skin cells combat against the damaging effects of pollution and sun radiation.
Stone Crop Oxygenating Fizzofoliant 120g
Stone Crop Cleansing Oil 150ml
Lotus Detoxifying Overnight Treatment 60ml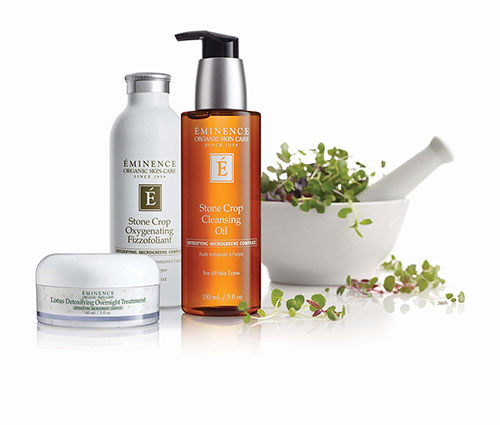 Micro Green Products