AGE CORRECTIVE RANGE
Eminence delivers 3 Age Corrective Ranges to fully address the signs of ageing for all ages. Age Corrective Day , Age Corrective Night and Age corrective Ultra for instant smoothing and lifting of lines and wrinkles. All ranges are interactive and work synergistically.
Age Corrective Starter Kit
Manoi Age Corrective Exfoliating Cleanser
Neroli Age Corrective Hydrating Mist
Bamboo Firming Fluid
Neroli Age Corrective Eye Serum
Coconut Age Corrective Moisturiser
Bamboo Age Corrective Masque
Coconut Firming Body Lotion
Instant Results & Lasting Beauty with Collagen Boosting Natural Retinol Alternative and Swiss Green Apple Stem Cells!
Discover exotic coconut, bamboo and neroli oil plus two new revolutionary, clinically-proven age correcting ingredients with the new Age Corrective Collection!
Turn back time with organic skin care that repairs the visible signs of aging instantly – skin appears tightened and firm with one application – and restores collagen levels and cell vitality over time for skin that appears, and acts, naturally ageless.
The secret is in the science. Our incredible Natural Retinol Alternative Complex contains chicory root and tara tree for a complex that mimics – and out-performs – the oft-prescribed conventional retinol to increase collagen synthesis.
Plus we've added plant stem cells from the famous Swiss Green Apple to deliver an increase in cell regeneration and longevity.
Instant and lasting results with Natural Retinol Alternative Complex and PhytoCellTec™ Swiss Green Apple stem cells: ·
Skin appears tightened and firm in as little as 5 minutes
Collagen levels increase in just 6 days.
Wrinkles and crow's feet dramatically soften in 28 days.
The following product should be in the age corrective day shop: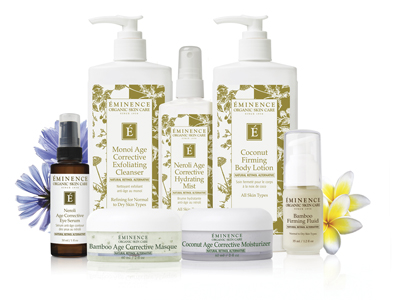 Diminish the signs of ageing overnight.
The benefits of a good night's sleep are no secret. Getting your eight hours a day is just as important to the health of your skin as drinking your eight glasses of water a day. Simply put: sleep keeps you young. So it's no wonder that skin care ingredients are best able to penetrate effectively while our bodies are in repair mode overnight.
Taking advantage of these precious hours overnight, the new Age Corrective Night collection combats the visible signs of ageing while you sleep. Lavender, evening primrose oil and monoi soothe the senses and encourage a deep, luxurious night's sleep.
Anti-ageing Stem Cell Complex containing Phyto CellTec™ Argan stem cells and nutmeg seed combine with argan, jojoba and grapeseed oils, to nourish and hydrate for an anti-ageing power house. The potent active stimulates dermal cell regeneration to increase density and firm devitalized skin. This natural wrinkle filler smoothes and plumps skin from the inside out. You'll awake refreshed, renewed and radiant with younger-looking skin. Use in conjunction with our premiere Age Corrective collection with Natural Retinol Alternative during the day to maximize results.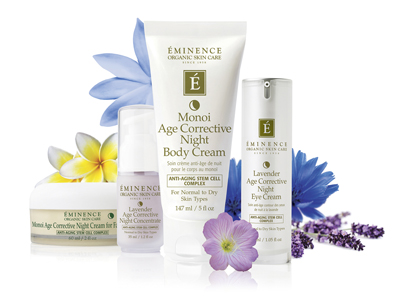 Age Corrective NIGHT
Lavender Age Corrective Night Concentrate
Monoi Age Corrective Night Cream for Face & Neck
Lavender Age Corrective Night Eye Cream
Manoi Age Corrective Night Body Cream
Incredible results in just 2 months with an exclusive Anti-Ageing Stem Cell Complex containing PhytoCellTec™ Argan stem cells and nutmeg seeds:
Skin density improves by 13%
Skin is 25% smoother
Wrinkle depth decreases by 26%
Ingredient Spotlight
Here at Éminence we're constantly researching and testing the best fruits, vegetables, herbs and flowers Mother Nature has to offer for natural, effective skin care solutions. For the Anti-Ageing Stem Cell Complex in our Age Corrective Night Collection, we uncovered two new ingredients that will infuse your skin with ageless beauty. 
Argan
Known as liquid gold, argan oil has been found to have incredible beauty benefits. Indigenous to Morocco, the argan tree is the oldest living tree species in the world. It is known to be rich in  antioxidants, essential fatty acids, polyphenols and more. Not only does it have healing, moisturizing and anti-inflammatory properties, it's another one of nature's wonderful antioxidants. We have incorporated the oil into our Age Corrective Night collection, but the main source of the incredible age repair belongs to the tree's stem cells. Argan stem cells encourage the regeneration of dermal stem cells and thus increase skin density. The result is firmer, younger-looking skin.
Nutmeg
Keep this fragrant spice in your life. The nutmeg tree originates from Indonesia and is often used in southern Asian cooking and baking. In skin care, nutmeg is an incredible, natural wrinkle filler.
An active in nutmeg seeds (macelignan) stimulates the creation of new adipose tissue cells underneath the skin, filling wrinkles and fine lines from the inside out. Rejuvenating the volume of adipose tissue leaves you with visibly smoother, radiant skin.
Age Corrective Ultra – Visible Results In 2 Minutes
Formulated to instantly lift, firm and tighten. These three new products dramatically improve the appearance of puffy, tired eyes, sagging skin and even the deepest expression lines. Featuring firming and lifting hibiscus, botanical peptides, and a unique ice wine actives, these products deliver results in minutes, and show long-lasting improvements over time. Use as an add-on treatment to an existing Age Corrective protocol or showcase instant results to devoted Age Corrective fans to reveal a red-carpet-worthy new look.
Age Corrective Ultra
Hibiscus Ultra Lift Neck Cream
Hibiscus Ultra Lift Eye Cream
Hibiscus Instant Line Filler
Features
Dramatic, visible results in minutes
Instant lifting and tightening
Long-lasting firming and smoothing over time
Non-invasive and all-matural ingredients
Complementary to our award-winning Age Corrective collection