POTENT C+E
Super foods become super skin care ingredients in the new Potent C+E Collection from Éminence Organic Skin Care.
Experience an antioxidant infusion as Vitamins C+E unite for supreme protection against free radicals, unparalleled healing ability and collagen boosting power.
A delicious botanical blend of organic citrus fruits and leafy greens such as kale and spinach, deliver an abundance of nourishing nutrients to rescue the skin. These bioflavonoid-rich ingredients work with botanically-derived ferulic acid to prolong and shield the antioxidant power of the Vitamin C.
What we put onto our skin is just as important as what we put into our bodies. Eating super foods has tremendous health benefits and now, Éminence Organic Skin Care brings you super foods for your skin in the new Potent C+E Collection.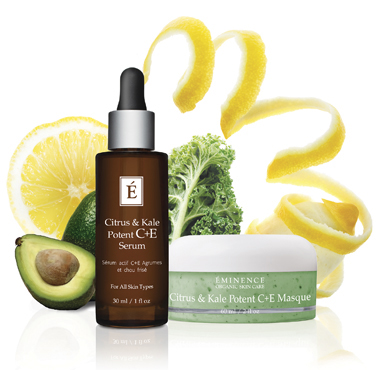 47% reduction in free radical damage in just 3 hours!*
Despite its vast potential, harnessing the true power of Vitamin C as a skin care ingredient has been a challenge due to its oxidative nature. Unless protected in some way, Vitamin C rapidly degrades and loses its antioxidant benefit once exposed to oxygen. After extensive efforts, Éminence has formulated a Potent C+E Collection with breakthrough botanical technology that retains the effectiveness of Vitamin C for the best possible results over time.
In the Potent C+E Collection the activity of the 16%* naturally fortified Vitamin C is preserved by the
combination of additional antioxidants. Specifically, supporting ingredients that are high in bioflavonoids such as kale, spinach and broccoli sprouts work with botanical ferulic acid to protect the potency of Vitamin C as well as adding further antioxidant benefits.
We have also added a unique form of Vitamin C called sodium ascorbyl phosphate which has stable molecules and gives all the benefits of Vitamin C in its most potent form for more effective absorption into the skin.
Vitamin E supports Vitamin C by offering additional antioxidant properties as well as healing and repairing abilities that will result in an even skin tone. Prevent damage from free radicals, boost collagen production, reduce inflammation and the appearance of acne with the preventative and corrective forces of this collection.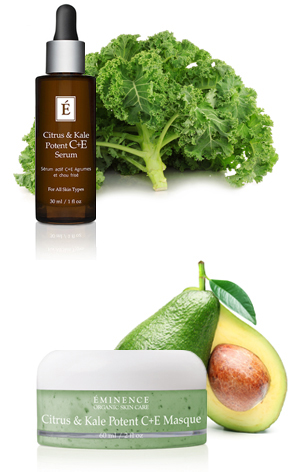 Citrus & Kale Potent C+E Serum
Fast-absorbing, advanced anti-ageing serum for all skin types with 16%* naturally fortified Vitamin C.
This potent dose of non-irritating Vitamin C is stabilized by botanically- derived ferulic acid to deliver optimal antioxidant benefits and increase collagen production within the skin. Vitamin E and leafy greens such as kale and spinach provide additional protection to the Vitamin C blend while healing and repairing the skin for improved skin tone and elasticity. The lipid base of the formulation means that these ingredients, as well as the collagen boosting, hydrolyzed hyaluronic acid are easily absorbed into the skin. Correct aging, prevent free radical damage and reduce inflammation with this skin-perfecting super serum that is gentle enough for all skin types.
Citrus & Kale Potent C+E Masque
Potent, anti-ageing cream-gel masque for all skin types.
Harness the natural power of Vitamins C+E with a boost of nourishing vitamins for the skin. A cocktail of citrus, rhubarb extract, leafy greens and avocado oil forms a protective defence barrier against free radical damage.
Regular use of this refreshing masque trains the skin to absorb Vitamin C more effectively and enhances results over time. Botanically-derived ferulic acid helps stabilise Vitamin C to correct and perfect. Bursting with collagen promoting ingredients, skin will also appear firm and plump for an ageless look.
ROSEHIP TRIPLE C+E FIRMING OIL: ANTI-AGEING • PREVENTION • HYDRATION
Rosehip Triple C + E Firming Oil. For all skin types, this non-irritating and non-greasy facial oil provides nourishing hydration and diminishes the appearance of fine lines and skin vascularity. Anti-ageing properties increase collagen production, reduce inflammation and soothe skin while multiple botanical sources of Vitamins C and E fight free radicals and combat the effect of glycation.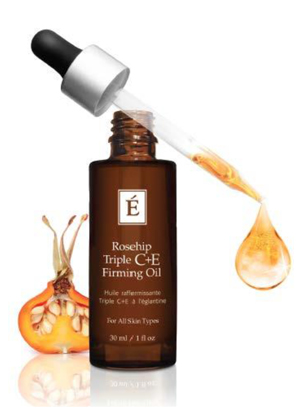 Designed as a complementary product to the Citrus & Kale Potent C + E Serum, the Rosehip Triple C + E Firming Oil delivers an added hydrating boost of Vitamins C and E to protect against Advanced Glycation End-product (AGE), which is formed as a result of high sugar levels in the skin and leads to damaged collagen and elastin. Skin is noticeably firmer with an increase in elasticity and moisture levels while damage from free radicals is drastically reduced.  This non-irritating, non-greasy facial oil is suitable for all skin types, including those with rosacea.
The multiple botanical sources of Vitamins C and E, including rosehip, jojoba and seabuckthorn oils, fight free radicals from UV exposure and the effects of glycation while improving the appearance of redness and inflammation on sensitive skin.
Key Benefits
89% increase in elastin for firmer skin
70% better protection against AGEs*
20% increase in skin hydration
36% reduction in free radical damage
[* Advanced Glycation End-products]
Potent C+E Products