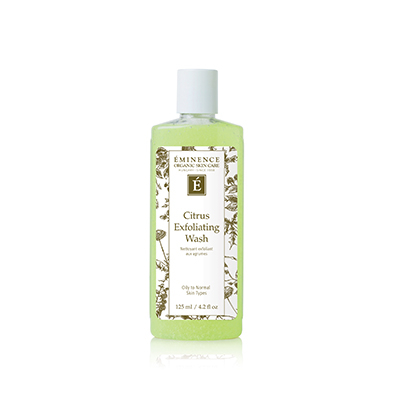 Citrus Exfoliating Wash
Citrus Exfoliating Wash gently exfoliates and cleans normal-to-oily skin in one easy step. Fresh lime juice removes impurities, while grapefruit seed and silica leave skin appearing luminously clear. Cruelty-free and formulated without parabens, sodium lauryl sulfates, synthetic dyes, petrochemicals, animal by-products, phthalates, GMOs and triclosan.
Retail Size: 4.2 oz / 125 ml
1- The skin is perfectly cleansed and gently exfoliated 2- Pore size appear minimized 3-The skin is softened for easier extractions
1- Lime Juice: high in vitamin C and antioxidants, astringent, helps minimize the look of pores 2- Grapefruit Seed and Peel: Antioxidant, natural cleanser 3- Shea Butter Extract: revitalizes and repairs the look of skin via moisture 4- Silica: gentle mechanical buffing action
Mix (dilute) a small amount of the product (pea size) with water in hands, apply and massage into skin with fingertips in a circular motion covering the face and neck for 1—3 minutes. Completely remove with a damp face cloth and then finish with an application of toner.