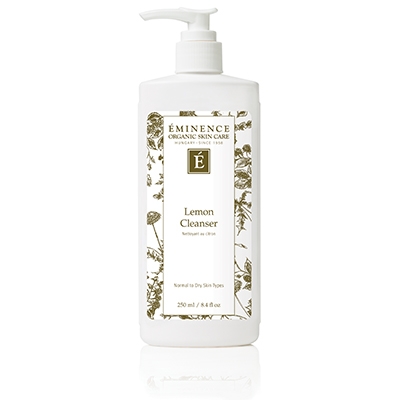 Lemon Cleanser
Find your moisture balance and gently clean your skin with our Lemon Cleanser. Lemon and herb oils hydrate to leave normal-to-dry skin soft and velvety. Cruelty-free and formulated without parabens, sodium lauryl sulfates, synthetic dyes, petrochemicals, animal by-products, phthalates, GMOs and triclosan.
Retail Size: 8.4 oz / 250 ml
1- Skin is perfectly cleansed 2- Skin texture appears softened and smoothed 3- Complexion appears cleared and more radiant
1- Lemon: tones and refreshes the skin, contains Vitamin C 2- Herb oils: softens and enriches the skin 3- Bioflavonoids: enrich, nourish and moisturize the skin 4- BioComplex™: an antioxidant booster of Vitamin A, Vitamin C Ester, Vitamin E, Coenzyme Q10, Alpha Lipoic Acid
Apply to the skin, emulsifying with fingertips and dilute cleanser with water, if necessary. Remove with a damp face cloth and apply appropriate toner for skin type.