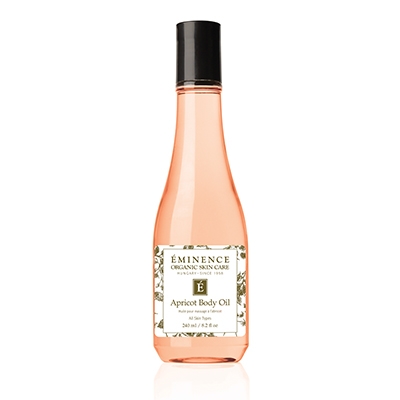 Apricot Body Oil
? Award Winning ? Vegan
Seduce your senses with our luxurious Apricot Body Oil. Ultra-hydrating apricot oil is blended with an assortment of essential oils, such as grape seed and jojoba, to create a luscious massage oil that leaves skin feeling irresistibly soft and supple.
Retail Size: 8.2 oz / 240 ml
Winner of Best Massage Oil, DaySpa Professional Choice Awards, 2019
Winner of Best Massage Oil, DaySpa Professional Choice Awards, 2017
Winner of Best Product, LNE's Best, Les Nouvelles Esthétiques & Spa
Soothing and hydrating massage oil
1- Epidermis is moisturized and feels revitalized
2- Skin tone appears improved
3- Skin texture appears softer and more supple
Key Ingredients
1- Apricot Kernel Oil: high in Vitamins A, C and E with skin softening properties, assists the skin in retaining the look of elasticity, clarity and suppleness
2- Grape Seed Oil: rejuvenating and restructuring qualities, moisturizes, reduces the look of lines and wrinkles
3- Jojoba Oil (Biodynamic®): nourishes and hydrates with one of the best absorption rates
4- Seabuckthorn Oil: vitamin and nutrient rich; protects skin cell membrane
5- Pomegranate Seed Oil: polyphenol-rich with high levels of antioxidants (even higher than green tea)
6- BioComplex™: an antioxidant booster of Vitamin A, Vitamin C Ester, Vitamin E, Coenzyme Q10, Alpha Lipoic Acid
Dispense an appropriate amount of oil for massage and warm in hands prior to application.